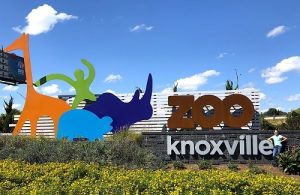 Zoo Knoxville
is one of the premiere zoological experiences in the southeast committed to sharing 'wildly fun' experiences that educate and inspire. By visiting Zoo Knoxville, you are supporting the Zoo's mission to save wildlife and wild places. The Zoo features acres of creative habitats for animal lovers of all ages to explore. Check out a few of the highlights you don't want to miss when you visit Zoo Knoxville!
Exhibits:
Clayton Otter Creek
Clayton Otter Creek opened in Spring 2022 and is home to three energetic otters: Clayton, Pascal, and Reed. Guests can get up close with these adorable animals by visiting their underwater exhibit located front and center in the entry plaza. These otters play an important role as advocates for their species, emphasizing how critical clean water is for otter habitats. They are encouraging Zoo visitors to help prevent micro-plastics from polluting our local waterways by bringing reusable water bottles that can be refilled in bottle stations throughout the Zoo or purchasing water in aluminum bottles.
Boyd Family Asian Trek
Located just off the entrance plaza to the east is the award winning Asian Trek. This 5 acre exhibit, complete with indoor tiger viewing as well as canopy views, was voted one of USA Today's top 10 best exhibits in the country. Malayan tigers can be seen lounging among temple ruins or taking a dip in a deep pool. Asian Trek also includes a tree house that allows guests to see Georgie, the white-handed gibbon, swinging amongst the tree tops.
ARC
In 2021, Zoo Knoxville opened the Clayton Family Amphibian and Reptile Conservation Campus (ARC), one of the top animal conservation facilities in the U.S. and the largest project in Zoo Knoxville's history to date. The ARC gives visitors the opportunity to view some of the most endangered species of animals in the world.
Winner of Keep Knoxville Beautiful's Orchid Award for New Architecture, the design of the building is made to give the impression of reptiles themselves with features such as a blue exterior wall that shimmers and changes colors like the scales of a reptile. The ARC has welcomed exciting new species such as Cuban crocodiles, a king cobra, and a free ranging sloth! The ARC also includes a greenhouse that allows guests to enter and watch herpetologists at work, educational elements focusing on core STEM concepts, and outdoor wetlands that serve as an ecological study habitat where children can collect specimens and take them back to an Adventure Lab to study.
Activities
Soaring Eagle Zipline
Soaring Eagle is an exhilarating flight experience and an exciting way to see the zoo from an eagles-eye view. This tandem zip ride pulls guests backwards to the top of the ravine. After taking in the view at 65 feet above the treetops, they are released to glide back to the landing pad at over 100 feet.
Clayton Safari Splash
Clayton Safari Splash is a 5,000 square-foot safari-themed water play area that is included with general Zoo admission. Located next to Grasslands Africa!, the splash pad includes play areas designed for all ages. With life-sized giraffes that spout water, water hoops and loops, team sprays that use cooperative play to send water several stories in the air and colorful giant flowers, it's the ideal spot to cool off.
Events:
After Hours
Now through September 22nd, After Hours from 5 PM – 8 PM each Thursday are perfect family friendly "sundowner evenings" at the Zoo. Each week features a food truck and craft beers,
wine, and specialty drinks. These evenings are free for members or with a general admission ticket (food and beverages an additional purchase).
Boo! At the Zoo
Knoxville's favorite Halloween tradition! It's a not-too-scary celebration featuring trick-or treating through the Zoo, dramatic lighting, giant inflatables and the Monster Mash dance party. Additional activities include the Scary-Go-Round and the BOO! Choo Train. Visit booknoxville.com for updates on dates, times and special character experiences.
Zoo Lights
Experience a magical night at the Zoo with glowing silk lanterns of exotic animals. Journey through an enchanted forest of trees wrapped in lights and twinkling stars to experience an unforgettable holiday tradition. Festive food and drinks are part of the fun, too!
Be sure to visit other attractions in Tennessee such as Zoo Knoxville, Knoxville Museum Of Art, East Tennessee Historical Society, Navitat Knoxville, Three Rivers Rambler, Ijams Nature Center, Tennessee Theatre, Blount Mansion, James White's Fort.
Like our Facebook page for more great info about HVAC services.
J.C.'s Heating and Air
3709 N Broadway
Knoxville, TN 37917
(865) 388-1712
https://jcsheatingandair.com/
Areas Served: Corryton, Fountain City, Halls Crossroads, Farragut, Powell, Knoxville, Knox County, Oak Ridge, Lenoir City