HVAC Contractor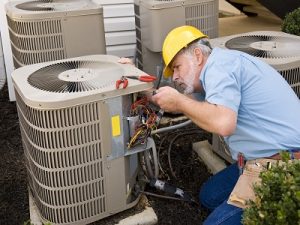 No matter what the weather is like outside, we still want comfort inside our homes. So no matter what time of year, we need to keep our cooling and heating systems at peak performance. When there is a problem you need to have a good HVAC contractor to call.
Tips on what to look for in an HVAC Contractor:
Good Reputation
You may want to ask around to your neighbors and friends. Today many homeowners are turning to the internet for help. Look for local HVAC contractors with good reviews not only reviews on Google but on other sites such as Facebook and Yelp. A good reputation shows the HVAC company cares about its customers.
It never fails, your HVAC unit seems to fail on the hottest or coldest day of the year – I think they call that Murphy's law. You don't want to wait an extended period of time for the unit to be repaired.
Licensed and Insured
Don't be afraid of asking for a copy of their license and make sure they are insured. Accidents do happen and you don't want to be the one responsible. Look for an HVAC contractor that is certified in air conditioning and heating and not just a general contractor.
What Brands Does the Contractor Service?
Make sure when you call your HVAC contractor, they service all brands of heating and cooling systems. You don't want someone working on the unit who is not familiar with your brand. Also, if they service a wide variety of brands, they will be able to easily get parts. If a company specializes in only one brand, they may want you to get a new unit when it is not necessary.
Customer Service is Key in Choosing an HVAC Contractor
When calling an HVAC contractor, you should always be treated with respect. This includes the person answering the phone to the technician who works on your unit. When you find a heating and cooling contractor who goes out of their way to work with and understand you, you have found a real treasure and need to stick with that company.
Your comfort depends on choosing the right HVAC contractor when you have a problem. Do your research and don't just call the first name in the yellow pages. Find someone you can trust.
When choosing a heating and air company in Knoxville TN, choose JC's Heating and Air as we are licensed in installing and servicing ductless HVAC systems, rooftop HVAC systems, air conditioning services and developing preventive maintenance plans.
We derive a great sense of professional pride from projects executed to the highest standards possible and our company has a perfect work record in the Knoxville area which is a result of years of experience and excellent workmanship. Our valued clients find us to be dependable as we are true to our word and have budget-friendly rates they can readily afford.
Consult with our experts today! Dial (865) 388-1712 for all your heating and air needs.
J.C.'s Heating and Air
3709 N Broadway
Knoxville, TN 37917
(865) 388-1712
https://jcsheatingandair.com/
Areas Served: Corryton, Fountain City, Halls Crossroads, Farragut, Powell, Knoxville, Knox County, Oak Ridge, Lenoir City