Residential & Commercial HVAC Contractors in Knoxville, TN
Are you experiencing problems with your heating and air conditioning unit? Is it not working at its best for your home or office at the moment? Taking good care of your HVAC unit is vital for keeping it running at its best for years to come. A simple repair by HVAC contractors in Knoxville, Tennessee can make a world of difference to your system.
The biggest problem for most people, especially during the summer months, is when their AC unit isn't functioning at its best. Usually when there is one small problem, it can continue and leak into other parts of your AC unit, causing even more problems.
During the hot summer months, the heat can get even intense, so your air conditioner needs to be working to help keep your family cool during the summer time.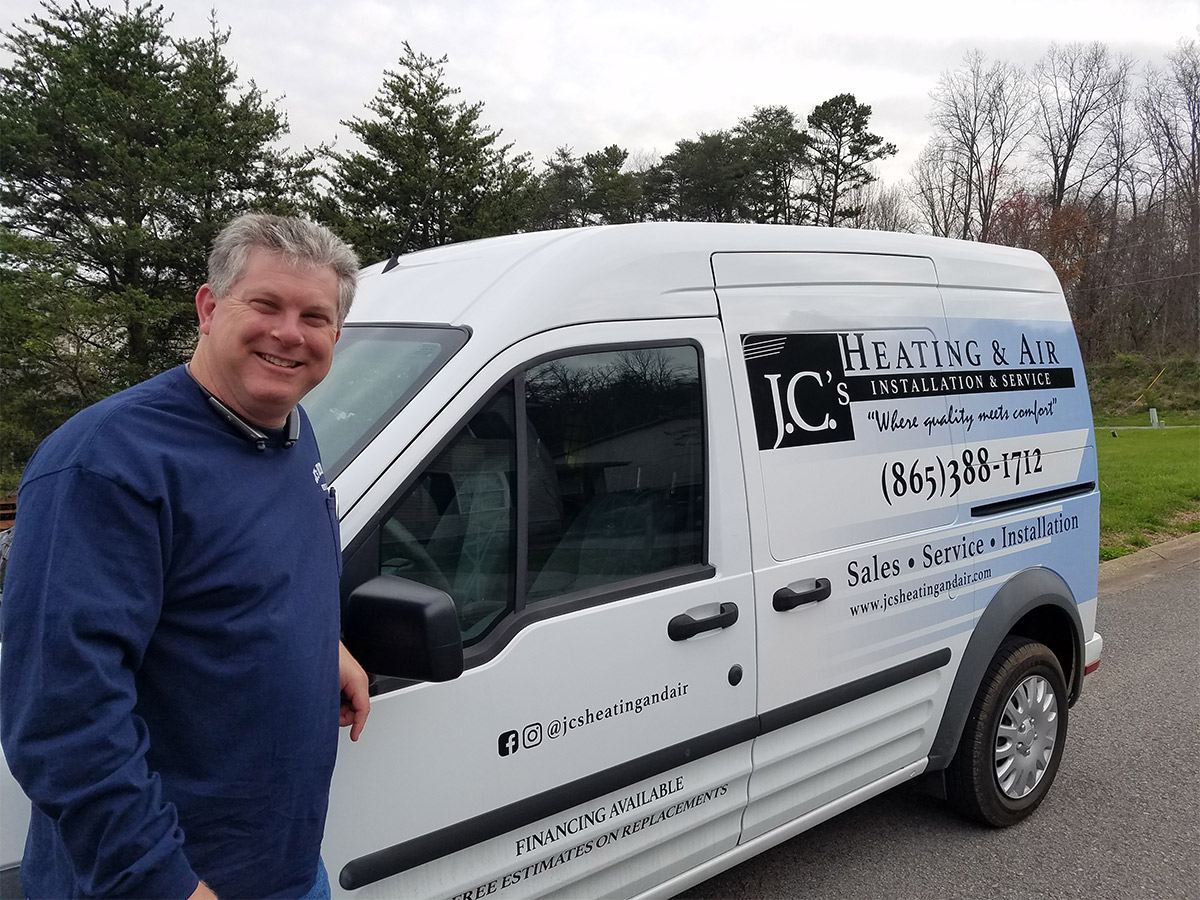 What Kind of HVAC Systems Do We Install?
Ductless HVAC Systems
This type of HVAC system is usually used just for a single room in a home or office. But it is quickly gaining in popularity for replacing many types of heating and air conditioning system that use ductwork to distribute air throughout your home or office and it can be more affordable and energy efficient. But if you only want AC or heat in one room, this is your best bet.
All
Air Conditioning
Heating
Ventilating
JC's Team
Project: New HVAC Unit Installation
Just wanted to say thanks again for the wonderful job on installing the unit. Everything is working great, we are very pleased with the work you done. Also thanks so much for the gift card. Hopefully we can send more business your way.
May God always continue to bless your business.
Freddy & Donna C. Knoxville, TN
Project: AC Unit Repair
I would like to give a plug out to J.C.'s Heating & Air (again). The AC in one of my condos went out and property management sent over 3 quote options from another HVAC company ranging from $2,745 – $4,587. Within an hour Jason was over there. Freon and a new capacitor = $214. Unbelievable! This is the 3rd or 4th time he's come to my rescue. Thanks Jason!
Project: Air Conditioning Maintenance
J.C.'s Heating & Air serviced our air conditioning unit for the first time yesterday and they got our unit back up and running in tip-top shape in no time. Jason and his team were knowledgeable, friendly and very easy to work with. It was a real pleasure to have them in our home and they did a fantastic job at a very reasonable price.
In a time where good service and quality work are becoming harder to find it is refreshing to find a company that still values quality and excellence. I would recommend JC's Heating & Air to anyone who needs trustworthy and reliable work done on their air conditioning system. Give them a call today!
Project: Install or Replace a Heat Pump
Very Professional… didn't talk down to me being a female and didn't get casual with me when I mentioned having been in the HVAC business. Very patient and understanding too, if I asked questions…even if I wasn't… Jason made me feel as if I was the most important client he has ever had! My concerns and needs were his priority!!! I cannot be more thrilled with my decision to work with them! Hire them today! You won't be disappointed.
Tammy S. in Knoxville, TN
Project: Repair or Install Gas Piping
They were prompt, courteous and professional. The estimate given was as asked for and not exceeded. I plan to use them again for any HVAC needs that they can provide. I am planning an upgrade to my heating and air system in the future and they provided me with an estimate on that work as well which was very fair. Overall Great guys and I look forward to working with them in the future.
James R. in Knoxville, TN
Regardless of the kind of HVAC system you have, it is always best to have your air conditioning unit serviced during early Spring and your heating system serviced in the Fall for optimum performance.
In most cases, you should replace your HVAC unit's air filter once a month, but some types of pleated air filters can be changed every 3 months or as recommended by the manufacturer.
Maintaining proper humidity levels inside your home is very important. Too much humidity affects all wood surfaces in your home and can cause damage to the wood surfaces. Too little humidity can cause a sore throat, dry skin, itching and static electricity build up.
A two-stage or variable speed furnace is an energy efficient, low maintenance unit that runs at different speeds to efficiently control the flow of heated or cooled air throughout your entire home. This creates more comfortable, balanced temperatures and humidity throughout your home.
There are many benefits to using a variable-speed furnace, including better temperature control, better humidity levels, better air distribution throughout your home or office and increased comfort. In addition, a variable-speed furnace uses about two-thirds less electricity and is a much quieter operating system and it produces cleaner air output.
Our goal is to provide you with total comfort, the best service, reliability, and confidence in our work and performance. We do all we can to keep service costs down without skimping on quality. We pride ourselves on:
Licensed and insured HVAC contractors/service
Continued excellence in workmanship
Industry experience
Flexible appointments
Prompt service
Wide selection of parts and equipment
Fast summer ac repair & installation
air conditioning repair Knoxville and surrounding areas
Our hours are 08:00 a.m. - 05:00 p.m. Monday through Friday. We provide only emergency HVAC services Saturday and Sunday.
Accepted payment methods: cash, check, Visa, MasterCard, American Express and Discover. We also offer financing for your convenience.

It is vital to have your AC unit always working perfectly year round. Your home or office needs to be kept cool during the hot summer months and you and your family need to be kept warm and cozy during the cold winter months. We are your premier HVAC heating and air Knoxville TN service and installation contractor.