Ductless HVAC Systems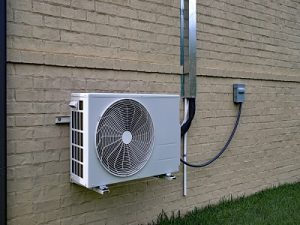 Homes and businesses are embracing ductless HVAC systems because they offer flexibility that window units and traditional systems cannot provide. Unlike these systems, ductless HVACs are a lot more energy efficient.
Moreover, they only require you to have a wall-mounted indoor unit combined with an outside compressor.
JC's Heating and Air conducts ductless HVAC installations in Knoxville, TN. Experience indoor comfort and enjoy consistent, year-round temperature control without the hassle of installing ductwork.
A Practical Alternative to Traditional HVAC Systems
Your ductless HVAC system is composed of two parts: an indoor air handler and a slim outdoor condenser. The indoor air handler sucks air from the surrounding area, before releasing it back again. In turn, the condenser cools the air that the handler releases.
These HVAC systems are ideal for areas where installing ductwork is not an option. As a modular system, ductless HVAC units are fit for homes or businesses that opt out of using a centralized air conditioning system.
Cost-effective, Year-round Comfort
Want a system that heats and cools your space without the hassle of a full renovation? Install a ductless HVAC system in Knoxville, TN today.
More than just sparing you from the renovation process, they are also more cost-effective than wall heaters or other alternatives. And even if this comes with a higher initial investment, it could mean saving more money in the long run.
Designed for your ultimate comfort, some of our HVAC models come with special filters that allow for the ease of filtration and humidity control.
Professional HVAC Technicians at Your Service
Unsure about the cost of ductless HVAC systems in Knoxville? Our expert technicians are happy to help.
We are an experienced and insured HVAC contractor in Knoxville, TN. Our team is dedicated to building solid, long-term relationships through our heating and cooling solutions.
J.C.'s Heating and Air is your local HVAC expert. Contact us at (865) 388-1712 for all of your HVAC needs.
J.C.'s Heating and Air
3709 N Broadway
Knoxville, TN 37917
(865) 388-1712
https://jcsheatingandair.com/
Areas Served: Corryton, Fountain City, Halls Crossroads, Farragut, Powell, Knoxville, Knox County, Oak Ridge, Lenoir City