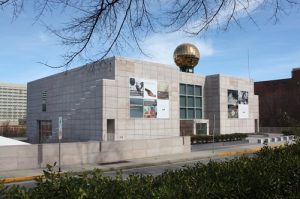 The Knoxville Museum of Art celebrates East Tennessee's rich, diverse visual culture and its connections to the wider currents of world art. The KMA values diversity and inclusion in exhibitions, programs, staff, volunteers, visitors, and stakeholders; warmly welcomes and embraces all; operates ethically, responsibly, and transparently as a public trust; enhances the community's quality of life; and strives to meet people where they are, to encourage life-long learning and engagement.
The KMA's predecessor, the Dulin Gallery of Art, opened in 1961 in the elegant Dulin House, a 1915 John Russel Pope architectural masterpiece located in a residential neighborhood on the west side of Knoxville. It was here that the institutional "DNA" of the KMA as an outwardly-focused, education-oriented, community-rooted organization first took shape. By the early 1980s, it was evident that, in order to reach out to and serve a growing and increasingly diverse community, the Dulin would have to expand or move its operations to more accessible and spacious quarters. The City of Knoxville offered a tract of land on the downtown site of the 1982 World's Fair. An ambitious community effort raised $11 million to construct a new, state-of-the-art building designed by renowned American architect Edward Larrabee Barnes. In March 1990, the Knoxville Museum of Art opened in its current 53,200-square-foot facility. The exterior of the four-story steel and concrete building, named in honor of Jim Clayton, the most significant single contributor to its construction, is sheathed in locally quarried pink Tennessee marble.
In the decades since the museum opened, its programming has evolved to become increasingly focused on the rich culture, old and new, of the Southern Appalachians. Higher Ground: A Century of the Visual Arts in East Tennessee, a permanent exhibition of works from the mid-nineteenth to the late-twentieth century, spotlights the compelling and largely unknown visual arts legacy of Knoxville and the region. Each year, this installation draws more and more from the museum's growing holdings of works by artists with ties to East Tennessee, including Knoxville natives Catherine Wiley and Beauford Delaney. To this has been added a permanent exhibition of modern and contemporary art. Currents:  Recent Art from East Tennessee and Beyond features a selection of objects from the KMA's growing collection of works by emerging and established artists and represents a chronological and geographic expansion of Higher Ground that allows viewers to consider the achievements of area artists within a global context. Facets of Modern and Contemporary Glass showcases the KMA's growing holdings of 20th– and 21st-century glass. A permanent installation of nine Thorne Rooms, from a series of miniature historic interiors created in the 1930s and later acquired by the Dulin Gallery, provides a tangible link to the KMA's early history. The museum supplements and complements its core permanent installations with a lively schedule of temporary exhibitions that explore aspects of regional culture and its relation to national and international artistic developments. The KMA's permanent and temporary exhibitions are supported by a full menu of educational programming, including school tours, workshops, outreach programs, lectures, concerts, and family activities. More than 70,000 people visit annually. Outreach to area schools, particularly those in economically-disadvantaged neighborhoods, reaches another 10,000 young people annually. Admission to the KMA is always free. Free admission is a core institutional value that creates a friendly exchange at the front door and helps communicate the message that everyone is welcome.
Be sure to visit other attractions in Tennessee such as the Sunsphere, Zoo Knoxville, East Tennessee Historical Society, Navitat Knoxville, Three Rivers Rambler, Ijams Nature Center, Tennessee Theatre, Blount Mansion, James White's Fort.
Like our Facebook page for more great info about HVAC services.
J.C.'s Heating and Air
3709 N Broadway
Knoxville, TN 37917
(865) 388-1712
https://jcsheatingandair.com/
Areas Served: Corryton, Fountain City, Halls Crossroads, Farragut, Powell, Knoxville, Knox County, Oak Ridge, Lenoir City