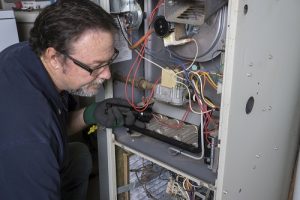 Have you ever wondered what an HVAC contractor actually does? Well, these professionals play a crucial role in ensuring your home remains comfortable year-round, whether you're cozying up in the winter or staying cool during scorching summers. Here's a closer look at their important responsibilities:
Keeping Your Comfort in Check
HVAC (Heating, Ventilation, and Air Conditioning) contractors are the go-to experts for maintaining a pleasant indoor environment. If you live in a chilly climate, they help you conserve energy and money by carefully calibrating your thermostat to maintain an optimal temperature.
Conversely, in hot regions, they ensure your cooling systems are set just right for comfort without overburdening your utility bills. They're like the comfort wizards of your home!
Installing Cooling Helpers
Besides temperature control, HVAC contractors can assist in setting up ceiling fans in your home. These fans work wonders in cooling down your living space during those sweltering summer months, making your home a more pleasant place to be.
Sealing Ducts for Efficiency
One of their critical tasks is inspecting your home's ductwork for leaks. By identifying and fixing these leaks, HVAC contractors help you save on energy costs. It's essential to emphasize that you should never attempt to repair duct leaks yourself, as this can lead to further issues. Always rely on the expertise of professionals to address such concerns.
Home Inspections for Added Value
if you're looking to enhance your home's value, hiring an HVAC contractor for a comprehensive home inspection is a smart move. They'll meticulously assess various aspects of your home, from ducts and insulation to the roof and plumbing. For those planning to sell their homes, a contractor's inspection can significantly boost your property's market value.
Tips for Finding an HVAC Contractor
Searching for an HVAC contractor, especially in the digital age, has become more accessible than ever. Here are some handy tips to streamline your search:
Online Search: Begin your quest by conducting an online search for HVAC companies. This will provide you with a list of local service providers along with their pricing details. It's a convenient way to compare and select the best-suited contractor for your specific needs.
What to Keep in Mind When Searching for an HVAC Contractor
When you're on the lookout for a heating and cooling contractor in Knoxville, TN, clarity is key. Here's what you should consider to make the process smoother:
Define Your Needs: Before you start your search, be clear about your requirements. Whether you're looking to install a new system or replace an old one, determine factors like size, power specifications, and any specific features you desire.
Replacement Details: For replacements or repairs, it's crucial to know the make and model of your existing system. This information helps the contractor understand precisely what you need, ensuring a smoother and more effective process.
Remember, while these tips serve as helpful guidelines, you should always trust your judgment when choosing an HVAC contractor in Knoxville, TN. Use these suggestions to your advantage, but ultimately, rely on your instincts to make the best decision.
Call J.C.'s Heating and Air if you are looking for a heating and cooling professional.
Like our Facebook page for more great info about heating and cooling services.
J.C.'s Heating and Air
3110 Henson Rd Suite 7
Knoxville, TN 37921
865-388-1712
Areas Served: Corryton, Fountain City, Halls Crossroads, Farragut, Powell, Knoxville, Knox County, Oak Ridge, Lenoir City