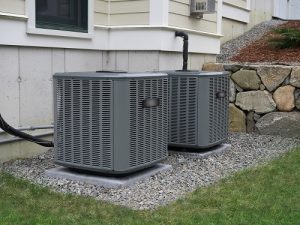 As we move into spring, it's the ideal time to deep clean our homes and perform maintenance on HVAC systems. Doing so not just gives us cleaner air in our spaces but also helps ensure efficient operations, saving money on energy bills while extending system effectiveness – potentially avoiding costly repairs!
Change the air filter of your HVAC system
As a homeowner, you have an easy way to reduce energy usage and improve the air quality in your home: replace or clean out your HVAC system's filter every month. If it is disposable, toss it and put it in a fresh one; if washable, give it a good cleaning for best results. This simple task can keep allergens like pollen at bay – especially important for those living with high counts!
Inspect the ductwork
Poorly sealed ducts are no laughing matter. To ensure your HVAC system is functioning at its best, always check for holes and leaky joints in the ductwork as well as any cracks that may need patching up. With quick action taken to repair these issues, you can rest easy knowing that there'll be one less thing to worry about when it comes to keeping your home comfortable!
Clean the drainage hole
Air conditioners are built to keep homes cool and efficient, but if their key drainage hole becomes clogged or blocked by debris, it can put extra stress on the system. To help your HVAC maintain optimal performance levels this summer season make sure you clean out the cabinet's base drainage port as well as any P-traps that may be nearby. Taking proactive steps with maintenance will ensure a safer and more enjoyable cooling experience throughout those hot months!
Keep the door and windows closed
For households experiencing allergies or asthma, it is important to keep windows and doors closed throughout the year. This protects against uncomfortable hot summer air entering which puts strain on your cooling system, reducing efficiency and increasing costs in the long run.
Get rid of obstructions
To keep your air conditioner running smoothly, regular upkeep on the outdoor unit is essential. It's exposed to harsh environmental elements that can affect its performance – so make sure to check it periodically and remove any loose debris or overgrown vegetation within two feet of the unit itself. Taking these steps guarantees an effective cooling system in your home!
Invest in a programmable thermostat
Spring is the perfect season to take control of your home's comfort and energy bills with a programmable thermostat. With precise temperature settings, you'll be sure that your system isn't running when no one is around – saving both time and money! Before making any adjustments to existing systems or installing new ones, it also pays off to double-check that all vents are open for optimal results.
Check your air conditioner
Beat the heat this summer by staying ahead of any potential issues with your air conditioning unit. Make sure you give it a test run before temperatures start to rise – that way, if anything needs to be repaired or serviced, you can have peace of mind and schedule an appointment in advance!
Schedule a routine maintenance
A professional HVAC contractor is your last line of defense against potential issues. After performing all the basic maintenance, it's time to bring in an expert for a more detailed analysis. They will ensure each connection and reading are up-to-date so you can rest assured that everything runs smoothly over the long run!
Upgrade your system
Spring is the perfect time to upgrade your air conditioning system! Replacing an outdated model with a new, energy-efficient one isn't just good for your pocketbook – it's also great for maintaining comfortable temperatures in those hot summer months when contractors are swamped and you don't want to wait weeks before getting relief. Beat the crowds: get ahead of schedule by installing now!
Call J.C.'s Heating and Air now if you need help fixing your HVAC system.
Like our Facebook page for more great info about heating and cooling services.
J.C.'s Heating and Air
3709 N Broadway
Knoxville, TN 37917
(865) 388-1712
https://jcsheatingandair.com/
Areas Served: Corryton, Fountain City, Halls Crossroads, Farragut, Powell, Knoxville, Knox County, Oak Ridge, Lenoir City