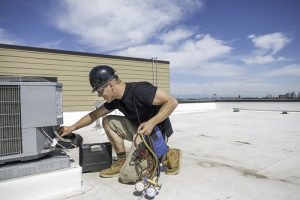 The HVAC unit is the most used system inside every home. This is why homeowners are continually looking for ways on how to maximize their use of heating and cooling systems so that they're not paying a lot of money for utility bills and energy expenses. Fortunately, there are energy efficient furnaces already made available today in the market.
On the other hand, there are lots of available energy efficient furnaces in the market today that you may be having a difficult time finding the one that will suit your home and your needs.
If you are considering buying an energy efficient HVAC system, these tips may help you.
Consider the size of your home when choosing an energy efficient surface. Make sure the unit you are going to buy is big enough to provide cool air or heat throughout your house. Keep in mind that an energy efficient furnace is 30-40% bigger than your home heating and cooling requirements.
An energy efficient furnace has at least 95% annual fuel utilization efficiency (AFUE). Remember that the higher this percentage, the more energy efficient the furnace.
If there is no annual fuel utilization efficiency in the HVAC system, look for the ENERGY STAR seal. This would mean that the unit you are considering to buy has high AFUE percentage. Energy Star requires a minimum of 95% AFUE.
Choose a heating and cooling system with two-stage or multi-stage burners. These types of furnaces are more energy efficient (at least 5%-8% more) than single-stage burners.
Look at the fan motor when purchasing your heating and cooling system. Direct current (DC) or Electronically commutated motor (ECM) are the best types and most cost-efficient fan motor. They use only 200 watts to run. This is a huge decrease compared to the 800 watts required to run an AC fan motor.
Purchase a programmable thermostat. This is a cost-effective investment if you really want to save money on your utility bills. You can use this to program the temperature settings of the house, especially when you are not at home or during the night. There are even some thermostats that you can access remotely using your smart phone to adjust the settings when you're still at the office and switch it on when you're on the way home.
Speak with an HVAC professional now to ensure that you will purchase the most suitable energy efficient system for your home. Call J.C.'s Heating and Air now.
5 Key Factors To Consider When Choosing HVAC Systems
After a thorough inspection of your heating and cooling system and speaking with a professional, you might realize it would be more cost-effective for you to get a new system rather than have your current one repaired. However, before you go out and scout for a new system to buy, there are some things you need to do first. This will ensure you buy the most suitable and efficient system for your home.
First things first
Have a sit down with your heating engineer or service contractor to talk about your needs and available options. There is a wide variety of HVAC systems that you can choose from, each having their own benefits and disadvantages. You will also have to identify how much you are willing to spend for your new system. Make sure you include installation costs when calculating the budget that you are allotting for this project.
Once you've detailed your needs and budget, you will have to prioritize and organize all the essentials. Which is the most important among all your needs? This will help you keep focused when choosing heating and ventilation systems. As a result, you won't easily get distracted by the latest technology or feature that looks really amazing but actually has no use for you.
Key factors to consider
Here are five factors that you will have to consider when buying a new HVAC system.
Central air conditioning –This is a feature that most heating and ventilation systems have. Before buying a system with this added feature, make sure you will benefit from it. If you are planning to sell the house in a couple of years, you'll benefit from central air conditioning in that it effectively increases the home's value. Also, if a member of your household suffers from asthma and allergic attacks, the central air-conditioning helps to filter and keep the air inside the house clean and safe to breathe.
Heating load and size of the system –It is important to ensure that the system you are buying is the right size for your house and your needs. An oversized system has too much heating capacity and uses more energy. To ensure you are buying the right size, enlist the assistance of your hvac contractor in determining the heating load of the system and whether or not it is appropriate for your home's size and insulation. Don't forget to consider your local weather as well.
Capacity –Make sure the system you are buying has sufficient capacity to heat or cool your entire house as well as new spaces and extensions to your home should you decide to proceed with a home improvement or expansion in the future.
Quality –Keep in mind that the price of a system should not be the basis for the product's quality. A cheap system is not always substandard and an expensive system does not always have the highest quality. Choose systems with high durability and long warranties.
Local service –To ensure you will receive service and assistance at once, buy your new system from a local shop. This will make it easy for you to go to the shop should you have questions about the machine. Similarly, their specialist will be able to reach you at once anytime you need assistance.
Looking for a local HVAC contractor? Contact J.C.'s Heating and Air now.
Like our Facebook page for more great info about heating and cooling services.
J.C.'s Heating and Air
3709 N Broadway
Knoxville, TN 37917
(865) 388-1712
https://jcsheatingandair.com/
Areas Served: Corryton, Fountain City, Halls Crossroads, Farragut, Powell, Knoxville, Knox County, Oak Ridge, Lenoir City