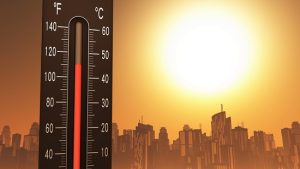 The summers can be hot, humid, and unbearable… especially if your air conditioner is not working. By preparing your HVAC system in advance, you can increase its efficiency and avoid costly breakdowns.
You can prepare your HVAC system properly for the summer to keep you cool and comfortable. Are you ready to learn more about HVAC systems? Let's get started!
HVAC Summer Preparation Tips
1. Replace air filters
To prepare your HVAC system for the summer, changing your air filter is a crucial step. Air filters are essential for maintaining indoor air by trapping dirt, dust, and other airborne pollutants.
Over time, these particles accumulate in the filter and cause it to become clogged. This reduces airflow. This can cause increased energy consumption or even damage to the HVAC system.
How to change your air filter:
The air filter is usually located inside the air handler.
Turn off the HVAC system before removing the air filter. This will prevent dust and debris from being drawn into the system.
Remove the old filter. Once you've located it, simply remove it.
Installing the new filter is easy. Slide the filter into the slot and make sure it's firmly in place. Double-check that the airflow direction indicated on the filter is correct.
Turn the system on After installing the new filter, turn on the HVAC system and let it run for a few moments to ensure that the airflow is correct.
According to the Department of Energy replacing an old filter with a new one can reduce your air conditioner's energy consumption between 5 and 15%. For maximum efficiency, you should do this once to three times a year. The constant use of air conditioning during the summer can lead to more frequent filter replacements. Check your air conditioning system often in the summer to make sure it is working at maximum capacity.
2. Clean Around Your Outdoor Unit
Winter can be a messy time outside. Clear any debris around your unit. Remove any loose leaves and sticks.
Do not forget the hedge trimmers. Trim any bushes or branches of trees that are located within a few meters of your outdoor unit. There must be at least two feet of space around your outdoor unit. It will allow for free airflow through your system.
3. Check your Thermostat
The HVAC system is powered by your thermostat. Make sure your HVAC system is working properly and cooling your house as you desire before summer arrives.
Turn off your HVAC system before checking your thermostat. Remove the thermostat cover and inspect the wiring. Test your thermostat by changing the temperature, and then listening to it turn on and off.
It is important to check your thermostat in order to ensure that your HVAC system runs efficiently during the summer heat. Contact us if you have any problems with your thermostat!
4. Book a Tune-Up with Us
There are many ways to prepare your HVAC for the summer. However, scheduling a professional tune-up is the best way to ensure that it runs efficiently and effectively. Our HVAC contractors in Knoxville TN will inspect the entire system and clean or adjust any parts in need.
You can save money on your energy bills by having your system professionally tuned up before the summer.
It is important to prepare your HVAC system in advance of summer. This will ensure that you maintain a healthy and comfortable home. This summer, you can rest assured that your HVAC system will be performing at its best. Call J.C.'s Heating and Air now.
Like our Facebook page for more great info about HVAC services.
J.C.'s Heating and Air
3709 N Broadway
Knoxville, TN 37917
(865) 388-1712
https://jcsheatingandair.com/
Areas Served: Corryton, Fountain City, Halls Crossroads, Farragut, Powell, Knoxville, Knox County, Oak Ridge, Lenoir City