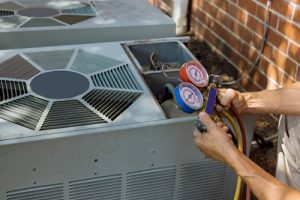 When the temperatures start to drop, having a reliable heating and air conditioning system is critical. But issues can arise if we don't take steps toward preventative maintenance! That's why it pays off big time – by doing routine care and upkeep of your heating systems you'll never be left in the cold (literally)! Not only does this optimize performance for when you need your residential units kicking full steam ahead but it also helps avoid costly repairs down the line that could have easily been prevented with some preemptive TLC.
Get Ahead Of The Heating and Air Conditioning Problem
Residential HVAC systems may seem indestructible but they can quickly break down with heavy use and time. To ensure your system works reliably when you need it, performing regular preventative maintenance is essential. Taking the extra step to inspect and maintain your unit gives numerous benefits – from devices running long-term without breaking down to avoiding costly repairs or replacements during crucial moments like holidays or dreaded Tennessee ice storms!
Lower Your Energy Bills
Maintaining your HVAC is an investment that pays off in more ways than one – not only does it help extend the life of your unit, but regular maintenance can also save you a ton of energy bills. By changing filters monthly and scheduling the professional services of an HVAC contractor as needed, you'll be sure to see lower electricity costs due to improved airflow resulting from effective preventative care.
Increase Your Home Value
Neglecting your HVAC system can lead to major headaches when it comes time to sell. Homebuyers often reject properties due to poor furnace or heat pump maintenance, meaning a huge loss in value and costly repairs for the seller. However, with regular preventative upkeep of these systems, you can not only avoid those pitfalls but maximize your home's worth – adding hundreds (or even thousands) onto its market price!
Protect Your Family
Don't let the blustery snowfall of winter catch you and your family cold – make sure to stay on top of preventive HVAC maintenance! Not only can this help keep your home warm, but it could also save them from flooding disasters if a pipe bursts or the basement floods. Invest in some peace of mind for those chilly winter nights with regular checkups that ensure maximum efficiency all season long.
Get Rid Of The Hassle and Stress
Invest in your home and time by signing up for a preventative HVAC maintenance services. Our professional HVAC contractor in Knoxville TN will complete periodic HVAC maintenance, so you don't have to spend precious time on repairs or labor-intensive tasks around the house. We prioritize safety and efficiency when it comes to protecting your investment from unnecessary wear – because at J.C.'s Heating and Air, we treat each residence as if it were our own.
Call J.C.'s Heating and Air now if you need help with your heating and air conditioning system.
Like our Facebook page for more great info about heating and cooling services.
J.C.'s Heating and Air
3709 N Broadway
Knoxville, TN 37917
(865) 388-1712
https://jcsheatingandair.com/
Areas Served: Corryton, Fountain City, Halls Crossroads, Farragut, Powell, Knoxville, Knox County, Oak Ridge, Lenoir City