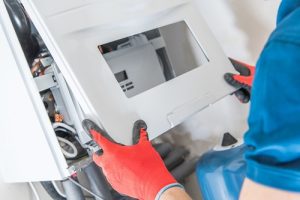 Upgrading your home's comfort system can be a wise investment that pays off quickly and significantly. But it's essential to get the best return from your purchases, so the experts have created this guide for homeowners deciding between furnace repair or replacement. Let us help you make sure money is being well-spent on improving energy efficiency!
When To Get Furnace Replacement
Moving into a home built in the 1960s or earlier likely means inheriting an outdated boiler system or furnace. While getting a whole new unit is unnecessary, updating your existing one may make all the difference regarding energy efficiency and cost savings.
If you feel like your home isn't reaching the desired 65-degree temperature, it might be time for an energy audit. A professional HVAC contractor from your utility company can provide insight into maximizing efficiency and saving on costly furnace replacements down the line. If all else fails, getting a new system may be necessary to achieve optimum heating performance in your house.
Optimize your energy usage by determining the most cost-effective resource in your area – electricity or gas. Utilizing the least expensive option will help you maximize efficiency and reduce spending!
Don't throw your old furnace away just yet! Maintenance can be a cost-effective alternative, allowing you to keep your home warm and cozy while saving on long-term operating costs. Ensure the right HVAC technician is equipped with the knowledge of top furnace maintenance tasks that will bring new life into aging units – ensuring maximum efficiency for years to come.
Furnace Repairs and Maintenance
Proper maintenance is crucial to a furnace lasting its expected lifespan, similar to how regular car tune-ups keep your vehicle running. Get the most out of the moving parts within your unit; have an HVAC contractor in Knoxville, TN ensure that each part has been properly placed and lubricated for continued efficiency!
Keeping your furnace in top shape is paramount for a consistent and reliable heat supply, especially during the colder months. Its ignition system may malfunction if it's experiencing intermittent or no heating at all. A hot surface ignition utilizes resistance-based components similar to those found in light bulbs that are electronically controlled; an intermittent pilot also uses an electrical spark but with a much higher voltage and thermostat regulation when activating main burners.
Keep your home heated and comfortable – diagnose any issues with your furnace's thermostat! Common problems such as failing to provide heat, no airflow, or intermittent heating can be swiftly resolved by certified HVAC professionals. Let their expertise keep you cozy all season long!
Call J.C.'s Heating and Air now if you need help in fixing or maintaining your furnace.
Like our Facebook page for more great info about HVAC services.
J.C.'s Heating and Air
3709 N Broadway
Knoxville, TN 37917
(865) 388-1712
https://jcsheatingandair.com/
Areas Served: Corryton, Fountain City, Halls Crossroads, Farragut, Powell, Knoxville, Knox County, Oak Ridge, Lenoir City