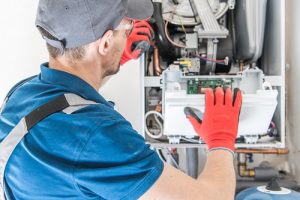 Now that winter is in full swing, your furnace is about to get a real workout to keep your home warm and cozy. That's when furnace maintenance comes in.
While professional services from experts like us at J.C.'s Heating and Air are essential for maintaining your heating system, there are also some simple maintenance steps you can do on your own to ensure your furnace works efficiently all winter long. Here's your easy-to-follow furnace care guide:
Furnace Maintenance Tips To Keep Your Unit in Top Shape This Winter:
Replace Your Air Filter
Start by changing your furnace's air filter. This is best done at the beginning of the season when your furnace has been idle for a while and has likely collected dust. If you use your furnace regularly, it's a good practice to change the filter every three months.
Clean Burners/Flame Sensors
The burners and flame sensors are where the fire is created in your furnace, so they tend to accumulate creosote and other residues. It's advisable to clean these parts annually to prevent interference with your system's operation or potential fire hazards. If you prefer, a heating contractor can handle this for you.
Inspect the Heat Exchanger
The heat exchanger separates clean air from the combustion process. Cracks or leaks in this component can allow harmful gases to enter your home, posing health risks. Conduct a visual inspection of your furnace's heat exchanger once a season. If you notice any damage, contact a technician immediately.
Oil the Fans
Your furnace's inducer/blower fans require periodic lubrication to run efficiently and safely. You can find suitable oil for these fans at hardware stores or online. If you're unsure, an HVAC contractor can perform this maintenance for you.
Check Wiring
Loose or frayed wiring can disrupt your furnace's electronic controls. It's a good practice to inspect your furnace's wiring annually, especially if your unit stops responding to programming.
Test the Thermostat
Ensure your thermostat is functioning correctly. During winter, set it lower to balance the cost of running your system. If you're experiencing inconsistent heating, consider it a sign of a problem.
Clean Ducts/Registers
Dusty ducts and registers not only degrade indoor air quality but also reduce airflow, making it harder for your system to provide adequate heat.
Consider having your ducts cleaned twice a year, ideally in winter and summer, for efficient HVAC operation. You can also wipe them down yourself or hire a technician for a thorough cleaning.
Clean the Furnace Humidifier
Furnace humidifiers help maintain proper humidity levels in your home during the dry winter months. However, they can develop issues when the water reservoir becomes dirty. Clean your furnace humidifier annually by wiping down the evaporator to remove mineral buildup and prevent clogs.
Test Your CO Detector
While not directly related to your furnace, a functioning Carbon Monoxide (CO) detector is crucial for home safety, especially during the winter when your furnace runs frequently. Test your CO detector seasonally to ensure it's operational, and replace the batteries promptly if needed. Remember, a CO detector can be a lifesaver in case of a gas leak.
Schedule an Inspection
Despite the DIY maintenance steps you can take, it's wise to schedule a professional HVAC contractor in Knoxville TN for a yearly inspection. This ensures your system is safe, efficient, and ready to keep your home warm throughout the winter.
For a furnace inspection or any other heating-related service, don't hesitate to contact J.C.'s Heating and Air. We're here to help you maintain a cozy and safe home environment during the winter months.
Like our Facebook page for more great info about heating and cooling services.
J.C.'s Heating and Air
3110 Henson Rd Suite 7
Knoxville, TN 37921
865-388-1712
Areas Served: Corryton, Fountain City, Halls Crossroads, Farragut, Powell, Knoxville, Knox County, Oak Ridge, Lenoir City