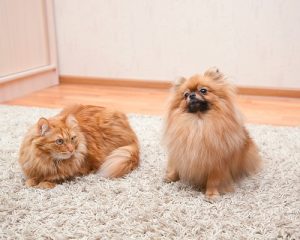 It's great to have pets in the home. Our furry friends also shed a lot of hair, dirt, and dander. Choose the right HVAC air filter to prevent fur and dander from blocking your HVAC system. This will ensure that you and your pet are comfortable at home.
HVAC Maintenance Tips for Pet Owners
When you have pets, it can be difficult to maintain a fresh-smelling home in Knoxville TN. Hair and dander can also overload your air conditioner. Here are some HVAC Tips for Pet Owners to keep your heating and cooling system running smoothly.
Brush regularly. Brushing your pet regularly is a good way to spend more time with them, and it also helps reduce the amount of hair that accumulates in your air filters. It's even better to groom them outdoors so that the fur can blow in the wind. Knoxville TN's warm climate allows you to groom your pets outside all year.
Replace air filters frequently. Pets can carry dirt, dust, and dander, which will quickly fill up your HVAC air filters. Keep your air filters clean to reduce the stress on your Knoxville TN HVAC system. Filters that are not pet-rated tend to last between half and two-thirds of their normal lifespan when there are pets in the home. Even pet-safe air filters should be checked a minimum of a month prior to their scheduled replacement if you have two or more furry friends.
Improve air filter quality. To remove more hairs and danders from the air, increase the quality of the filters. The MERV rating (minimum reporting value) is used to grade air filters. The majority of heating and cooling systems have MERV ratings between 5 and 8. The best HVAC filters for pets are MERV 11 and higher. This level removes pet allergens and dander from the air. You can use an air purifier if your heating and cooling system is not able to support a higher MERV rating.
Keep your pets far away from any hardware. Pets can cause havoc with heating and cooling equipment. They may chew on exposed wires or rub their fur into outdoor AC units. Create a fence to protect outdoor units. Make sure the wires are hard to reach and secured.
Vacuum at least twice a week. Regularly vacuuming and sweeping the floors will reduce the amount of dirt and fur that is released into the air. By cleaning your floors twice a week, you can reduce the workload of your HVAC system.
Regular HVAC maintenance is essential. Maintenance is essential for the health of your heating and cooling unit. Schedule tune-ups and maintenance twice a year if you have pets. Our HVAC contractor in Knoxville TN will take a closer look at the indoor and outdoor unit if you mention you have pets during your first inspection. They can also make recommendations based on how your pets impact system efficiency.
How to get rid of pet odor from the air ducts
The vents may be the source of the smell. If the smell is coming from your HVAC system, here's what you can do.
Check for signs that your pet peed inside the vent. Check any vents that your pet might have accessed if it smells more like urine than dander. Bring a portable blacklight because all body fluids, such as urine, glow under the blacklight. If you discover urine in the area, use a pet urine cleanser or a mixture of baking soda and vinegar.
Deodorize your vent. Deodorizing sprays can be used to neutralize the smell of pet hair in air ducts. Spray the deodorizing spray into the vents, and let the airflow carry it throughout the system. Choose the spray carefully, as some only mask the odor instead of eliminating it.
HVAC Maintenance in Knoxville TN: Keep your HVAC system running smoothly
Hire a professional HVAC service. Deodorizing the air ducts can help to reduce the smell of pets, but cannot remove the fur or dander that has built up in the ductwork. Professional HVAC cleaners have the skills and equipment necessary to completely remove pet odors from vents.
Schedule regular duct cleaning. Regular cleaning of your air ducts will help prevent pet odors from accumulating.
If you are not careful, pets can strain your HVAC system. Regular maintenance will prevent your unit from becoming overworked by pet dander and hair. Call J.C.'s Heating and Air now and let our team help.
Like our Facebook page for more great info about HVAC services.
J.C.'s Heating and Air
3110 Henson Rd Suite 7
Knoxville, TN 37921
865-388-1712
Areas Served: Corryton, Fountain City, Halls Crossroads, Farragut, Powell, Knoxville, Knox County, Oak Ridge, Lenoir City