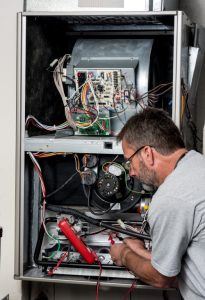 You should hire a heating contractor when you need to install, repair, or maintain your heating system. This could include situations such as:
Replacing an old or broken furnace or boiler or heat pump
Installing a new heating system in a new construction home
Scheduling regular maintenance to ensure your heating system is running efficiently
It's also wise to hire a contractor to conduct an energy audit and suggest ways to improve the energy efficiency of your heating system.
Signs you may need a new HVAC  system
There are several signs that may indicate you need a new HVAC system. Some of these include:
Your system is more than 10-15 years old. The average lifespan of an HVAC system is around 15 years.
Your energy bills are increasing. If your energy bills are suddenly higher than usual, it could be because your system is working harder to maintain the same level of comfort.
Your system is making strange noises. Squealing, grinding, or banging sounds can indicate that parts of your HVAC system are malfunctioning or worn.
Your system is not providing enough heat or cooling. If your system is no longer able to keep your home at the desired temperature, it could be a sign that it is reaching the end of its lifespan.
Your system requires frequent repairs. If you find yourself calling for repairs more and more often, it may be more cost-effective to replace the system altogether.
Your indoor air quality is poor. If you or your family members have been experiencing increased allergies or respiratory issues, it may be time to replace your HVAC system.
Uneven heating or cooling in the house. If you find that certain rooms in your home are consistently too hot or too cold, it could be a sign that your HVAC system is not properly distributing air.
It's important to get a professional evaluation of your system to determine whether or not your HVAC system needs to be replaced.
Questions to ask a heating contractor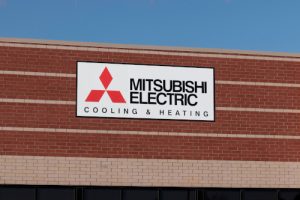 When hiring a heating contractor, it's important to ask the right questions to ensure you are getting a qualified and reliable professional. Some important questions to ask include:
Are you licensed and insured?
How long have you been in business?
Do you have any references or customer testimonials?
What type of heating systems do you specialize in?
Are you familiar with the specific make and model of my current heating system?
Do you offer maintenance plans or service agreements?
Can you provide a detailed estimate for the work to be done, including all materials and labor costs?
What is your policy on warranty or guarantee of your work?
Will you provide a detailed invoice, including all charges at the end of the project?
Will you be able to give an approximate time frame to complete the job?
Asking these questions will help you understand the contractor's qualifications and experience, and will help you make an informed decision when hiring a heating contractor.
Why I should have a heating system maintenance contract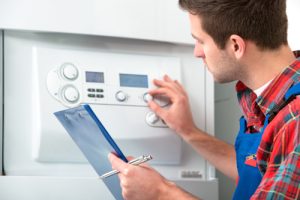 Having a heating system maintenance contract with a professional HVAC contractor can provide several benefits, including:
Increased efficiency: Regular maintenance can help your heating system run more efficiently, which can lower your energy bills and extend the life of your system.
Improved performance: A professional cleaning and inspection can help identify and address any small issues before they become larger problems. This can help your system perform better and provide more consistent comfort.
Reduced breakdowns: By catching and fixing small issues before they become bigger problems, regular maintenance can help reduce the likelihood of your system breaking down unexpectedly.
Longer lifespan: Regular maintenance can help extend the life of your heating system, which can save you money in the long run.
Safety: A properly functioning heating system can reduce the risk of fire or carbon monoxide leaks, keeping you and your family safe.
Priority service: Some maintenance contracts include priority service, which means you'll be given priority over non-contract customers in case of emergency repairs.
Cost savings: A maintenance contract often includes discounts on parts and labor, which can save you money in the long run. Overall, having a heating system maintenance contract can help ensure that your heating system is running safely, efficiently, and reliably, which can save you money, improve your comfort, and provide peace of mind.
Give J.C.'s Heating and Air if you are in need of a heating contractor or desire a heating system checkup.
J.C.'s Heating and Air
3709 N Broadway
Knoxville, TN 37917
(865) 388-1712
https://jcsheatingandair.com/
Areas Served: Corryton, Fountain City, Halls Crossroads, Farragut, Powell, Knoxville, Knox County, Oak Ridge, Lenoir City