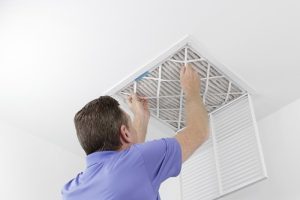 The summer is coming, and that means it's time to get ready for outdoor fun. This time, you should also prepare your HVAC system for the new season.
HVAC stands for heating, ventilation and air conditioning. It is the climate control system and ventilation in your home. Maintaining your HVAC system is important to prevent breakdowns, regardless of what type you have. A well-maintained HVAC system will run at its best.
Regular maintenance can also help you save money by lowering your energy bills. JC's Heating and Air can provide you with a tune-up for your HVAC system during the spring. Professional Services is ready to inspect your HVAC system and make sure it's prepared for summer.
HVAC Maintenance Tips
Check your filters
Checking the air filter is one of the most important summer HVAC maintenance tips. The filter is used to collect dust, dirt and other particles from the air as your HVAC system operates. Over time, as more particles are passed through, they stick together and create a buildup.
The air will force these particles into your HVAC system when the filter is clogged with dirt and dust. The indoor air quality will be affected. As a result, your unit's capacity to cool efficiently and effectively will also deteriorate. Eventually, this strain may damage the machine.
Check your AC air filter before turning it on in the spring. You should ensure you buy the right size air filter. Note the dimensions of your filter, and decide the level of filtration that you require.
HVAC systems have varying requirements, including the frequency of filter replacement. Some systems require only a filter change every year, while others may need it every six months. It is important to clean your air filters at least every 30 days in the summer. This will ensure that your system keeps your home cool.
Cleaning reusable filters is necessary to maintain them at their best. They should be cleaned once a year. If you have allergies or pets, you may need to clean your filters more often.
Check Your Ducts & Vents
Checking vents and ducts is also a good idea in the spring. Air circulating in your home is significantly lowered by dirty vents and air ducts. Any clog in the system will reduce its efficiency.
Check the vents in your home. Clean the exterior and interior surfaces, removing any dirt, hair or dust accumulation. After cleaning, open all vents to allow air to flow freely.
While air filters can keep dust and dirt from entering the ductwork to a large extent, it is important that they are checked by a professional before the summer. Professional HVAC technicians use state-of-the-art equipment to clean your entire system. While you may be able to reach a small distance with a vacuum cleaner, they can clean the whole system. The technicians will clean your ductwork and remove all dirt and dust.
A professional duct cleaning will also reveal any leaks or damage in the ductwork. A thorough inspection can also identify weak points that will require future professional repairs.
Cleaning Outdoor Areas
Every spring, you should also clean and inspect the exterior of your AC unit that sits outside. The unit may not function properly after the winter because of old leaves, branches and other debris.
Remove all debris on your AC condenser and the area around it. Keep a minimum 2-foot clearance around the HVAC unit. Cleaning the area around the condenser regularly will help prevent dust from entering the unit, causing HVAC problems.
Increase Your Cooling Power
You should also consider ways to increase the cooling power of your HVAC system throughout the home when discussing summer HVAC tips. Your AC unit's efficiency can be reduced if you run it constantly. It could also cause damage.
Your Thermostat needs to be tuned up
Installing a programmable temperature control can improve the efficiency of your AC. You can control the temperature in your home more easily with a programmable thermostat. Smart thermostats allow you to control the thermostat using your smartphone.
A programmable thermostat can be set to a specific temperature for the day or night. By maintaining higher temperatures while you are away, a programmable thermostat can save you money. Have your thermostat checked by an HVAC contractor in the spring.
Add Energy Efficient Accessories
You can also boost your cooling by using energy-efficient products. You can, for example, invest in energy-efficient window treatments to reduce indoor temperatures and block the sun's warmth. The HVAC system will not have to work as hard in order to maintain the cool air.
Ceiling and standing fans can also circulate air to improve airflow in your home. Standing fans can be positioned to blow cool air at you, promoting circulation. Ceiling fans should be set to rotate clockwise in order to circulate cool air and direct it downward.
Schedule Professional Services HVAC Tune Up
Prepare your HVAC system to ensure that it works optimally during the summer. Professional Services is proud to offer you the highest quality service and comfort. Our heating and cooling products are of the highest quality, and we offer reliable customer service.
Our professional HVAC technicians will provide you with all the information needed to make informed decisions about your HVAC systems. If you need assistance with installing, repairing, or maintaining your HVAC system, call J.C.'s Heating and Air now.
Like our Facebook page for more great info about HVAC services.
J.C.'s Heating and Air
3709 N Broadway
Knoxville, TN 37917
(865) 388-1712
https://jcsheatingandair.com/
Areas Served: Corryton, Fountain City, Halls Crossroads, Farragut, Powell, Knoxville, Knox County, Oak Ridge, Lenoir City