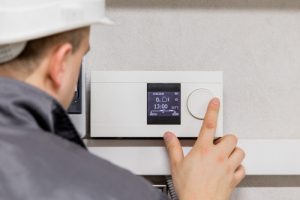 Summer is just around the corner and now is the time to schedule a preventative maintenance service call. Waiting until the heat of summer sets in may be a big mistake.
Spring HVAC Maintenance: What is it important?
It is worth it to do spring cleaning on your furnace or air conditioner in the spring. These are just a few:
This prevents expensive breakdowns. Regular maintenance of your HVAC system can reduce the likelihood of costly breakdowns by up to 95%
It reduces energy costs. Preventive maintenance can help you save up to 30% on your energy bills, according to the U.S. Department of Energy.
This extends the lifespan of your HVAC system. You save money and get the most from your initial investment by reducing the need to repair or replace parts.
This ensures that the HVAC system is covered by warranty. When a warranty claim is filed, many HVAC manufacturers require documentation of the HVAC system's annual maintenance.
It improves indoor air quality. Cleansing your furnace or air conditioner will reduce indoor allergens such as dust mites and pet dander.
Your HVAC system is important, even if it runs smoothly. If you wait for something to go wrong, you'll probably end up spending a lot of money on repairs. If you can't fix the problem, it may be too costly to replace your whole HVAC system. J. C. Heating and Air's highly trained technicians can help you set up a preventative maintenance program to avoid these issues. We recommend that you have your unit inspected twice per year to catch any minor issues before they become serious. This will help your system in the following ways.
* Improve indoor air quality You can reduce the amount of pollutants in your home by using high-quality filters. However, it is recommended that you clean your air ducts on a regular basis. Preventative maintenance visits by our technicians allow us to clean and replace air filters. This improves your home's air quality.
* Increase the life expectancy of your HVAC unit. HVAC units are composed of many components. If one of these components fails or is not functioning efficiently, it can cause the whole system to lag. Preventative maintenance will ensure that your entire system works properly.
* Lower energy costs If your HVAC system isn't working properly, you may notice a dramatic increase in your monthly utility bills. It is worth scheduling maintenance services periodically to help you save money.
Why choose J. C. Heating and Air?
J. C. Heating and Air is a family-owned company that will provide you with the best service. Continuous learning is a key part of our technicians' job so that they are proficient in maintaining your HVAC system. You can schedule preventative maintenance services at your convenience.
Preventative maintenance is essential if you want your HVAC unit to run smoothly. J. C. Heating and Air has the expertise and tools to ensure your HVAC system runs at its peak performance for many years. Call us today to set up a preventive maintenance program and ensure your HVAC system is running at peak performance throughout the year.
J.C.'s Heating and Air
3110 Henson Rd Suite 7
Knoxville, TN 37921
865-388-1712
Areas Served: Corryton, Fountain City, Halls Crossroads, Farragut, Powell, Knoxville, Knox County, Oak Ridge, Lenoir City