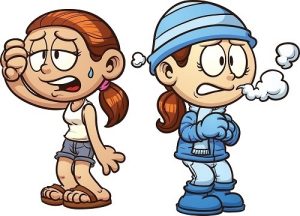 You are not the only one who has noticed that certain areas of your home feel hotter or colder than others. You are not crazy or detecting a ghost. You can feel the temperature in your home change depending on where you are. Here are some HVAC tips you need to know.
There are several ways to make hot and cold spots less noticeable or reduce their number. Here are a few tips to get you started.
HVAC Tips To Fix Hot and Cold Spots
Check to Make Sure No Air Vents Are Blocked
It is one of many causes of uneven heating and cooling. It's surprising how many homeowners don't notice when a piece of furniture, curtains, etc., is blocking the HVAC return air vent. If items block the airflow, even if it's only partially blocked, this can make the room feel hotter or colder, depending on the system that is running. Ensure no items are on or above any return vents on the floor or on low walls.
Check Windows and Doors For Drafts
You may not have adequately sealed your windows and doors, which could cause some areas in your home to be uncomfortable. Even the smallest gap can allow conditioned air to escape. This is not only bad for you but also for your wallet. Add weatherstripping and caulk to your home where necessary to prevent air from escaping increasing energy costs, or causing cold or hot spots. If you have a drafty older house, you might want to consider replacing your doors and windows.
Check Insulation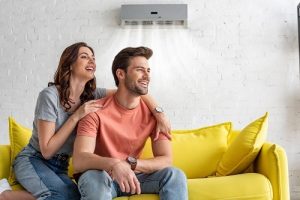 Insulation is important in keeping your home comfortable, even though you don't notice it. Insulation keeps cold air in your home and makes it more energy-efficient. Insulation is what keeps your home warm in winter and cool during the summer. You'll likely pay more on your energy bill if you don't have proper insulation. This is because air conditioning and heating will be wasted. Call a professional installer if you notice that your home's insulation is not in good shape or doesn't appear insulated.
HVAC Zoning
HVAC zone control uses multiple thermostats to control different areas of your house. A two-story house, for example, might have two thermostats. One would control each level. With this setup, you can control where and when the conditioned air is circulated in your home. You can customize your heating and air conditioning experience by investing in thermostats that control dampers, adjust temperatures in different rooms and have the ability to control different temperature settings.
Clean or Repair Your Air Ducts
Although duct repair and cleaning may not seem important to control indoor temperatures, they can significantly help you. Dirty air vents can cause obstructions, which make your HVAC system work less efficiently. This leads to higher energy bills and hot and cold spots throughout your home. Damaged air ducts can also cause conditioned air to escape your home before it reaches its interior. This means that you are wasting money while still experiencing inconsistent indoor temperatures. Professional duct cleaning and air duct repairs can remove anything blocking airflow.
Call J.C.'s Heating and Air now if you're having problems with hot or cold spots at home or if you need professional HVAC services.
Like our Facebook page for more great info about heating and cooling services.
J.C.'s Heating and Air
3709 N Broadway
Knoxville, TN 37917
(865) 388-1712
https://jcsheatingandair.com/
Areas Served: Corryton, Fountain City, Halls Crossroads, Farragut, Powell, Knoxville, Knox County, Oak Ridge, Lenoir City