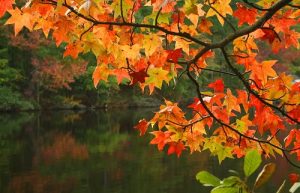 As the summer days gradually cool down and the promise of fall approaches, it's time to start preparing your home for the changing seasons. While you may not be reaching for your cozy sweaters just yet, it's a smart move to think about your HVAC system before the colder temperatures set in.
To help you get ahead of the game, here are eight valuable tips to ensure your HVAC system is ready for the fall season.
Tips To Prepare Your HVAC For Fall
1. Upgrade to a Programmable Thermostat
Fall weather can be quite unpredictable, with chilly mornings and warmer afternoons. Upgrading to a programmable thermostat can give you better control over your home's temperature. Modern thermostats can be programmed to adjust heating and cooling based on your schedule. Some even come with smartphone apps, allowing you to control your home's climate remotely.
2. Replace Your Air Filter
Replacing your HVAC air filter is a simple yet effective way to maintain system efficiency. With fall approaching, it's a great time to change the filter. A new filter ensures that your system runs smoothly and helps improve indoor air quality.
3. Clear Around the Outdoor Unit
Inspect the outdoor part of your HVAC system as fall arrives. Trim any shrubs or trees that might be encroaching on the unit. Clear away debris, dirt, leaves, and twigs to ensure optimal performance. For a thorough check, consider professional maintenance from a reliable HVAC contractor in Knoxville TN.
4. Clean Air Vents and Ducts
Clean air vents and ducts are essential for proper airflow throughout your home. Make sure registers are open and not obstructed by furniture. Use a vacuum's hose attachment to remove dust from air vents. Wipe away any remaining dust with a damp cloth.
5. Seal Air Leaks
Address air leaks to improve energy efficiency. Check windows and doors for drafts by holding a piece of paper near the frames. Replace weather stripping if needed. Also, look for leaks in ventilation ducts. Fixing these leaks can save you money on energy costs.
6. Check Furnace Burners and Blowers
Before relying on your furnace throughout the fall and winter, give it a checkup. Clean off any dust that may have accumulated during the warmer months. Turn on the furnace gradually to let it adjust to the demands of heating your home.
7. Consider Upgrading
If your HVAC system is aging or experiencing frequent problems, fall is an ideal time to consider an upgrade. With professionals less busy than during the peak summer season, you can plan for a smoother installation process.
8. Schedule Professional Maintenance
Regular HVAC maintenance is crucial for long-term efficiency and performance. Schedule a professional tune-up for your system in the fall to ensure it's in top shape for the colder months ahead. Regular maintenance can prevent unexpected breakdowns and improve overall energy efficiency.
Preparing your HVAC system for fall is a smart investment that ensures comfort and efficiency as temperatures drop. By following these eight tips, you can enjoy a cozy and worry-free autumn season without any heating surprises. Don't wait until the cold sets in – take proactive steps now to keep your home warm and comfortable all fall long.
Call J.C.'s Heating and Air today to schedule your fall HVAC maintenance and enjoy peace of mind knowing your system is ready for whatever the season brings.
Like our Facebook page for more great info about heating and cooling services.
J.C.'s Heating and Air
3709 N Broadway
Knoxville, TN 37917
(865) 388-1712
https://jcsheatingandair.com/
Areas Served: Corryton, Fountain City, Halls Crossroads, Farragut, Powell, Knoxville, Knox County, Oak Ridge, Lenoir City