JC's Heating and Air Offers Ductless HVAC Systems in Knoxville
Ductless HVAC systems are more flexible than singular window units and traditional systems. That's because these units don't use traditional HVAC ductwork. All you need is an outdoor unit and an indoor unit, as well as a place for mounting and access to electricity.
How  Ductless HVAC Systems Works
A ductless HVAC system has two parts: an indoor air handler and a slim outdoor condenser. The former sucks air from the surrounding area, and then releases the air-conditioned air back into the same area. The condenser cools the air.
Such a system is especially ideal for areas where installing ductwork is not practical. This system also retains the modular type of operation for those who prefer not to use a centralized air conditioning system.
Ductless HVAC Systems Are More Cost-Effective and Provide Year-Round Comfort
Ductless HVAC systems heat and cool a space without the hassle of a full renovation.
In addition, ductless HVAC systems provide a ton of other benefits. They're more cost-effective than baseboards or wall heaters. The initial investment is higher, but they could save you lots money in the long run.
You don't have to buy a separate wall unit in the winter and a portable AC in the summer; a ductless unit will provide comfort in all seasons. Flipping a switch turns cold air into heat and vice versa, similar to central HVAC systems.
Some models also have special filters that promote added filtration and humidity control.
Expert and Friendly HVAC Technicians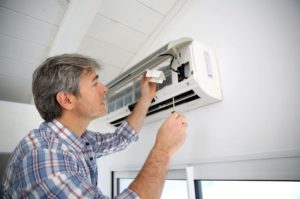 At JC's Heating and Air, we have expert technicians who are more than happy to provide ductless system installations for your home or office. We will also provide you with answers to your questions about ductless HVAC systems.
As one of the leading HVAC contractors in Knoxville, we are dedicated to building solid, long-term relationships with our clients by providing quality and comfort—without compromise.
Ready to have a ductless HVAC system installed in your home or office? Get a quote,  or Call Us Today, we are here to help.